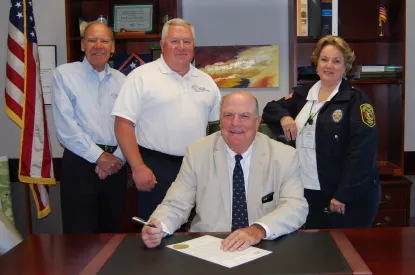 May is Building Safety Month

May 8 2017
The month of May has been proclaimed Building Safety Month in the City of Goose Creek. Mayor Heitzler signed the proclamation on the morning of May 8 at City Hall.
The proclamation recognizes that the city's "growth and strength depends on the safety and economic value of the homes, buildings and infrastructure that serve our citizens.
"Our confidence in the structural integrity of these buildings that make up our community is achieved through the devotion of … building safety and fire prevention officials, architects, engineers, builders, tradespeople, design professionals, laborers and others in the construction industry who work year-round to ensure the safe construction of buildings."
The proclamation thanks the International Code Council, which sponsors Building Safety Month, for its role in implementing high construction standards in the U.S.
Joining Mayor Heitzler at the signing ceremony were Goose Creek Fire Chief Steve Chapman, GCFD Building Official Bob Yarnall, and GCFD Building Inspector Ginger Spindler.
« Back to News