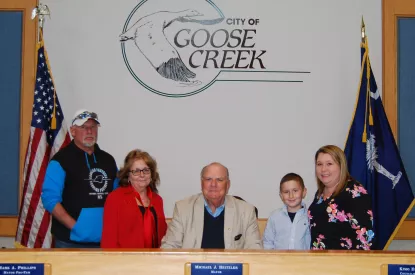 March proclaimed Bleeding Disorders Awareness Month

Mar 16 2018
March 2018 is "Bleeding Disorders Awareness Month" in the City of Goose Creek. A proclamation signed by Mayor Heitzler on March 16 has the goal of increasing awareness about conditions such as hemophilia and von Willebrand disease.
"The Awareness Month will foster a greater sense of community and shared purpose among individuals with inheritable bleeding disorders," the proclamation states.
The federal government's first "Hemophilia Awareness Month" came under President Reagan in 1986. Over 3 million Americans are affected by blood disorders.
According to Hemophilia of South Carolina, bleeding disorders share the inability to form a proper blood clot.
Mayor Heitzler was joined at City Hall by Tim Belay, Sheri Belay, Cole Dean and Wendy Legrand, who are have traveled to different areas of the state spreading information about bleeding disorders.
« Back to News