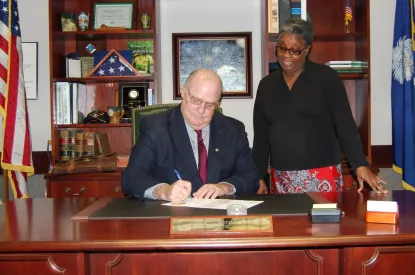 Librarian's 'unwavering service' recognized

Feb 26 2016
A lifetime of "loyal commitment and unwavering service" is being honored this weekend, as Goose Creek Mayor Michael Heitzler has proclaimed Saturday, Feb. 27, 2016, as Madelyne Spann Appreciation Day in Goose Creek.
Mayor Heitzler signed the proclamation Friday afternoon at City Hall.
Before retiring this week, Spann was a librarian at the Goose Creek Branch of the Berkeley County Library for over 30 years.
A graduate of Rice Business College, Mrs. Spann's love of reading made the library a perfect career choice. She shared her passion for books with many people over the past three decades.
In addition to her duties as a librarian, Mrs. Spann, who grew up in Goose Creek, is a longtime volunteer in the community. Her husband, Samuel Spann, is the pastor at Moncks Corner Church of Our Lord Jesus Christ of the Apostolic Faith. The couple has three children, Larry Spann, Lanitra Spann-Chatman, and Isaiah Spann.
The proclamation thanks Mrs. Spann for continuing to share her love of reading and her love of others, and continuing to play an important role in the community.
« Back to News