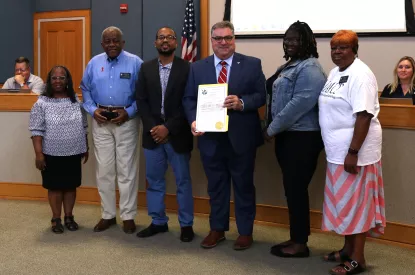 Juneteenth celebrated in Goose Creek

Jun 19 2023
Monday, June 19, was officially recognized as Juneteenth in the City of Goose Creek, as Mayor Habib made the proclamation at the June 13 City Council Meeting. "This is American History," the Mayor said. "Juneteenth commemorates the abolition of slavery in the United States ... celebrating African-American freedom and achievement."
Mayor Habib was joined by members of the Goose Creek NAACP and Cultural Arts Commission at the proclamation.
« Back to News