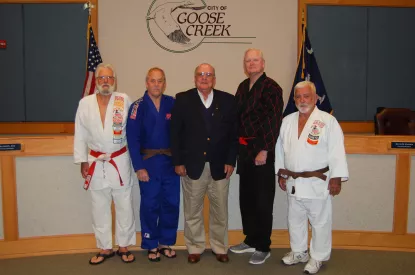 It's Judo Week in Goose Creek

Apr 9 2018
The week of April 8 to 14 was officially proclaimed "Judo Week in the Creek" at a signing ceremony on Monday morning at City Hall.
Goose Creek Mayor Michael Heitzler was joined by members of the Samurai Judo Association, the largest Judo and Jujitsu club in the country. The club – located at the Naval Weapons Station in Goose Creek – offers free instruction to military and Department of Defense personnel.
The proclamation calls Judo a popular and demanding Olympic sport that "teaches many valuable character attributes such as self-discipline, patience, self-confidence, courtesy, humility and physical fitness to students of all ages."
Pictured with Mayor Heitzler are (l-r) 8th Degree Black Belt and USJA Coach of the Year Dr. Ronald Allan Charles, instructor Ricky Herndon, 4th Degree Black Belt John Merwin, and instructor Don Ort.
« Back to News