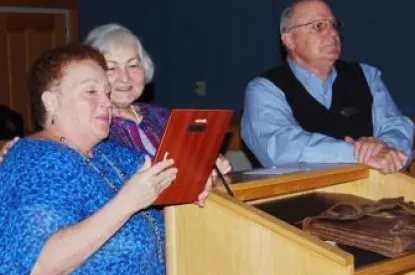 History lecture attendees thank Mayor with plaque

Nov 23 2016
Goose Creek Mayor Michael Heitzler's final history lecture of 2016 ended with a special presentation on Nov. 17 at City Hall.
Several attendees surprised the Mayor with a plaque of appreciation "for your 10 years of educating our community through your lecture series ... Thank you for helping our city continue to preserve our past, protect our present and progress towards shaping our future."
The weekly series – "Goose Creek Backyard History" – began Oct. 13. Rep. Joe Daning was in the audience for Thursday's finale, which looked at Goose Creek's history over the past half-century. The series will return in the fall of 2017.
Mayor Heitzler has authored five history books and 14 historical booklets and articles. He has researched Goose Creek history for decades, and his presentations are filled with stories of the men and women who, across the centuries, helped shape a City and region.
« Back to News