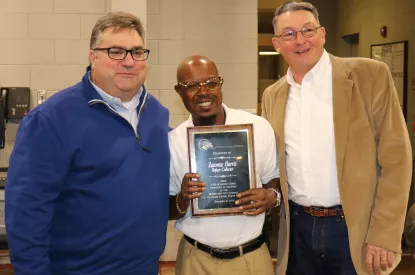 Harris named City's Employee of the Year

Dec 11 2018
In addition to a strong work ethic, Zatomie Harris brings a positive, can-do attitude to work with him every day at the City of Goose Creek's Department of Public Works.
His dedication to his job, to his co-workers, and to Goose Creek has not gone unnoticed:  Harris is the City's 2018 Employee of the Year. He was recognized at an employee banquet on Dec. 8 at the GCFD Headquarters Station.
A refuse collector in DPW's Sanitation Division, Harris began his career with the City in 2015. After each City Department named its top employee for 2018, he was chosen as the citywide Employee of the Year by City Council and Mayor Habib, who presented the honor.
"He has always approached work in a professional manner," Public Works Director Chuck Denson said.  "Zatomie can be counted on to be at work and ready to go in the mornings, rain or shine, hot or cold.
"Many don't realize it, but it definitely takes a special person to accomplish what our refuse collectors do. Zatomie brings a great attitude with him and strives to do the best he can every day."
Harris's attitude was on display at the end of the workday on March 12, 2018. When several streets' trash pick-up had been missed, his supervisor needed a volunteer to return to work. Harris didn't hesitate, and the missed streets were picked up. It's one of countless examples of Harris stepping up when needed.
"Zatomie realizes the expectations of the citizens and takes pride in the opportunity to serve his community," Denson said. "As a resident of the City, he gets to see the results of his efforts."
At Saturday's banquet, Mayor Habib thanked all City employee for their service. The following City employees were named as their department's Employee of the Year:
Karen Hennessy (Utility Billing Specialist, Administration Department)
Marc Todd (Building Inspector, Fire Department)
Robert Semashko (Golf Course Maintenance, Golf)
Mary Skiles (Food and Beverage Server, Golf – part time)
Stacey Croston (Gymnastics Coordinator, Recreation)
Maggie Miller (Customer Service Clerk, Recreation – part time)
Bryan Carlson (Private First Class, Police)
Chimere Myers (Lead Communications Specialist, Police – civilian)
Bill Schuteker (Volunteer of the Year, Police – civilian)
« Back to News