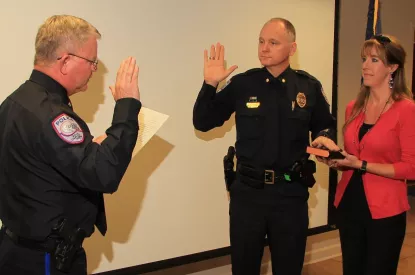 Grainger promoted to Assistant Chief

Jan 6 2016
Four months after beginning his law enforcement career as a reserve officer, John Grainger received his first promotion.
The year was 1993. Grainger lacked experience – but Goose Creek Police Chief Harvey Becker sensed that the young man had the makings of a leader. Grainger was sworn in on Nov. 3, 1993.
A starting salary of $8.57 an hour was okay because Grainger wasn't in it for the money. He was in it to make a difference, and he took that first job as a police officer with an enthusiasm and work ethic that would become his trademark.
"He would come around even on his off days," Becker said. "He had persistence from the very beginning."
Many things have changed in the 23 years since Grainger swore an oath to the City of Goose Creek. The police force – and the City it serves – has more than doubled in size. His responsibilities have increased and so has his rank.
Yet his enthusiasm – his persistence – has never waned.
On Monday morning, Chief Becker again administered a swearing-in of Grainger. This time, it was to promote him to the rank of Major. Grainger will also serve as Assistant Police Chief.
The promotion ceremony took place in the GCPD training room, where dozens of fellow lawmen, family, friends and City co-workers gathered to honor a lifetime of dedication to Goose Creek.
"I can count on him," Becker said. "If John Grainger does it, it's going to be done right, and it's going to be done right the first time."
Since 1993, Grainger has been an integral part of every aspect of the GCPD. After graduating from the South Carolina Criminal Justice Academy and winning the coveted J.P. Strom Award, given to the top academic for each class, Grainger was promoted from Patrol Officer to Detective. He was promoted to Sergeant in 1998, to Patrol Lieutenant in 2002, and to Captain in 2009.
Becker describes Grainger's career in simple terms: "He is a true success. Every place and everything that he's tried, he's been successful."
Goose Creek City Administrator Dennis Harmon agreed. "I've watched John Grainger grow up in the Goose Creek Police Department," Harmon said. "I've seen him mature, expand his horizons, and become a true, consummate professional.
"He has a real empathy for people, and that's important in a police professional. He's tough, but he's fair."
Grainger has been instrumental in the GCPD's CALEA (Commission on Accreditation for Law Enforcement Agencies) accreditation, and has helped other agencies in that process. His file at the GCPD includes letters of appreciation from organizations like the U.S. Secret Service and the Charleston County Sheriff's Office.
"He is," Becker said, "a hot commodity. He is well-rounded. And people know that."
Grainger's promotions came because of his performance, but also because of the initiative that he took outside of the job. Since joining the force, the Fayetteville, N.C. native has earned both a Bachelor and a Master's Degree in Business Administration. Today he is an adjunct professor at Trident Tech, where he specializes in Homeland Security.
Grainger is quick to point out that the GCPD encouraged his higher education; in fact, the City's tuition reimbursement program made his college experience possible.
According to Harmon, Grainger's success has validated that program.
"Earning a college degree, and then a Master's degree, has moved him … into the executive rank of law enforcement," Harmon said. "He is a true success story. I'm very proud of him."
Grainger, who has worked extensively to obtain grants that help the department keep up with Goose Creek's unprecedented growth, describes his new position as "broader in scope," with less direct supervision and more project-driven, big-picture challenges.
Grainger said he was humbled by Monday's turnout, and grateful for another opportunity to serve. "I like being a part of the explosive growth of this department, of managing it and leading it," he said. "I like being part of that process."
Since 1993, the GCPD has grown from 31 officers to 65. The department employs 27 non-sworn personnel.  
Goose Creek Mayor Michael Heitzler was in attendance at the Jan. 4 ceremony, as was veteran Berkeley County lawman Rick Ollic, who began as Moncks Corner Police Chief this week.
« Back to News