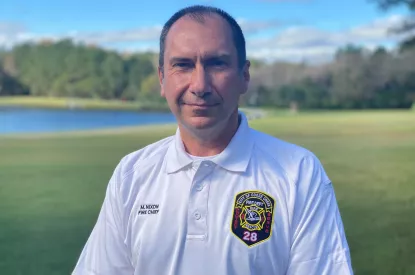 Goose Creek welcomes new Fire Chief

Nov 30 2020
Mike Nixon began his tenure as the City of Goose Creek's Fire Chief on Nov. 30, 2020.
Chief Nixon brings a wealth of experience to the position. He arrived in Goose Creek from the Portland Fire Department in Portland, Maine, where he served for 25 years, and was most recently that Department's Deputy Chief.
He grew up around many firefighters and police officers in his own family, and a father who shared a keen interest in the fire fighting profession with his son. As a teenager, he joined the local volunteer fire department in South Portland. 
A graduate of Southern Maine Community College, Chief Nixon earned a degree in Fire Science, a subject he would go on to teach at the college level before joining the PFD in 1995. 
Chief Nixon said that he immediately was attracted to Goose Creek after visiting South Carolina's Lowcountry. "The men and women in the Department were progressive-minded, and I felt like I could be a good coach, and a good fit for the organization," he said. "I love the fact that the Department is growing and the City is growing."
Goose Creek Mayor Greg Habib calls Chief Nixon a great fit for the City's growing department. "Having interviewed and spent significant time with Chief Nixon, I am exited for the future of our department," Habib said. "His wide ranging experience, commitment to community, and quiet confidence will serve our department and city well."
« Back to News