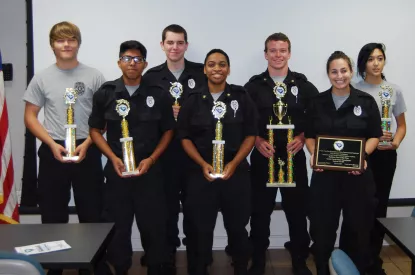 Goose Creek Explorers shine at state competition

Aug 18 2017
Ten young law enforcement trainees did their city proud this summer, as the Goose Creek Police Explorers Post 400 captured the South Carolina Association of Law Enforcement Explorers Post of the Year honor for 2017.
The award was one of several for the group, which attended the SCALE summer competition in Columbia from July 9 to 14.
Goose Creek Police Chief Harvey Becker praised the 2017 Explorers for their awards, and for the impressive way they represented the city. "We are very proud of these young people," he said.
Twelve police agencies from around the state participated in the Police Explorers competition this year. The program is career-oriented, and gives young adults the opportunity to work with local agencies to discover firsthand what being in law enforcement is about.
Ryan Adams, a Stratford High School graduate and Goose Creek native, was named the 2017 Explorer of the Year following the SCALE competition. Before the competition, the 20-year-old and his nine teammates spent a week on the job with GCPD officers.
Ryan, the Chief of Post 400, called the Explorers experience "awesome," and said that the team formed a strong bond. "We learned as a team and as a family," he said. "We loved going to the competition together and practicing together."
Sasha Murray, one of the team's two Sergeants, won first place in the Female Physical Agility category. In team awards, the local Explorers captured first place in Crime Scene Investigation, Alarm Call, and Suspicious Vehicle categories, as well as the Overall Team Award.
In addition to Ryan and Sasha, the Goose Creek Explorers are Major Natalie Garcia, Sergeant Anthina "Brynne" Domingo, Andrew Justiss, Michael Stanley, Samuel Velasco, Cinnamon Hernandez, Alexandria Rivera and William Atchley.
The Explorers were led by GCPD Lt. Shelly Ollice, MPO David Coffey, and MPO Charles Rivers.
In an awards ceremony at the GCPD on Aug. 16, the team was treated to a pizza party. Goose Creek Mayor Michael Heitzler attended the event, along with GCPD officers and staff.
« Back to News