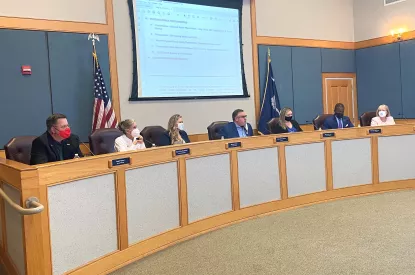 Goose Creek ends mask mandate

May 11 2021
Goose Creek City Council has voted to rescind the ordinance that mandated face coverings and social distancing within City limits. Council met in regular session Tuesday, May 11 at City Hall.
Tuesday's vote passed by a count of 5-2, and nullifies Ordinance no. 20-028, which addressed the COVID19 pandemic by requiring face coverings be worn in public buildings and outside when social distancing wasn't possible.
The new ordinance goes into effect immediately. Tuesday's vote also repeals several emergency measures that allowed City boards and commissions – including City Council – to conduct meetings electronically.
While wearing a face covering is no longer law in Goose Creek, City officials encourage all residents to remain vigilant, and COVID19 vaccinations are strongly recommended.
"I am proud of our response to COVID19, and I'm grateful for our residents' patience and cooperation," Mayor Habib said. "Like thousands of you, I have received a COVID19 vaccination and I encourage all residents to do the same. Let's continue to make the COVID threat as small as possible for our City."
« Back to News