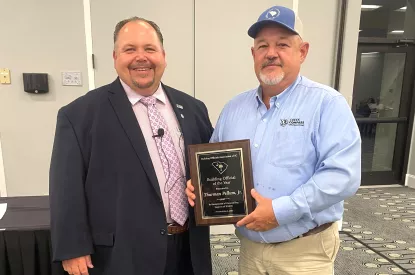 Goose Creek Building Official captures statewide honor

May 5 2023
We are proud to announce that City of Goose Creek Building Official Thurman Pellum has been voted South Carolina's 2023 Building Official of the Year. Thurman was presented this statewide honor at the recent Building Officials Association of South Carolina annual conference, held in Myrtle Beach. BOASC President Shawn Brashear presented the award, which was voted on by the Association's membership. The BOASC represents all Municipal and County building departments in South Carolina.
Congratulations, Thurman, and thank you for your outstanding service to Goose Creek!
« Back to News