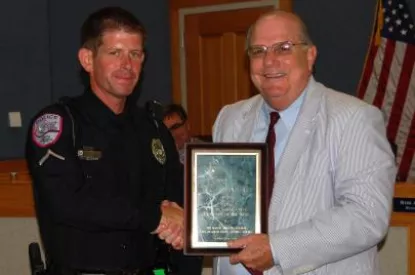 GCPD's Hart named 2016 Employee of the Year

Aug 11 2016
What is Goose Creek PFC Justin Hart's best quality?
That's a tough one.
Perhaps it is the lawman's devotion to his community – a community he not only serves, but of which he himself is an integral part.
Perhaps it is his character; in the words of Goose Creek Police Chief Harvey Becker, his "availability, thoroughness, alertness and dependability."
Perhaps it is the fact that he continually pushes himself to learn, to gain the crucial knowledge that could one day save a life – and then share that knowledge with his fellow officers.
Or perhaps it is his selfless attitude, his ability to put the needs of others ahead of his own.
No matter their ranking, all of these qualities – and many more – led Chief Becker to nominate PFC Hart as the City of Goose Creek 2016 Employee of the Year.
City Council members and Mayor Michael Heitzler agreed with the nomination, and the Mayor ended an awards presentation at the Aug. 9 City Council meeting by announcing the city-wide honor. Hart accepted a plaque from the Mayor as the audience rose to its feet in applause.
"This is by far the greatest award I have received in any setting due to the extraordinary people that I work with," Hart said. "There are many police officers at Goose Creek that go above and beyond their normal assignments who I feel could have been selected this year. 
"It is a great honor to be chosen out of a group that I highly admire."
Becker called the award a well-earned one.
"Justin is a seasoned officer who is very in-depth and detailed in his enforcement efforts," the Chief said. "It is not just one specific area that defines Justin, but every aspect of his dedication to the agency, the city, and, most importantly, the community he serves."
Becker praised Hart's dedication as a husband and father. "He's a family man first," Becker said.
Hart began his career with the GCPD in 2011. He joined the department's Strategically Assigned Officers (SAO) team in 2015.
Hart spoke of the fulfillment that comes from his work: "Professionally, the greatest reward for me is the job satisfaction that comes with getting the job done, whether it be educating the public through citizen contacts, holding people responsible for their actions, or working with individuals to help get their lives on the straight and narrow."
He was asked if he had advice for rookie police officers.
"Don't give up," he said. "There are a lot of emotional and academic hurdles that new officers have to overcome that can easily overwhelm anyone.  It is important for new officers to believe in themselves and in their abilities, and to understand that they are part of a team that will help them through challenging situations."
Hart and his wife, Tamara, have two children, Owen and Ava.
The Wyoming native moved to Charleston at a young age, and served in the U.S. Marine Corps from 1999 to 2003. He earned an Environmental Science degree at Northern Arizona University, and was employed at the South Carolina Department of Natural Resources before joining the GCPD.
In addition to Hart, three other honors were given by the GCPD. Allison Gibson, a crime analyst, captured the department's citizen Employee of the Year. GCPD Chaplain Jason Strong was named Volunteer of the Year. Sasha Denise Murray was presented the department's Explorer of the Year honor.
Rick Buckner, the chairman of the Goose Creek Economic Development Advisory Committee, is the city's Board/Commission Member of the Year.
The remaining 2016 Employee of the Year honorees and their respective city departments are:
Court Clerk Amy Weatherford, Administration
Engineer/EMT Sean Nordaby, Fire
Head Golf Professional Bobby Donnellan, Golf
Maintenance Supervisor Michael Knight, Recreation
Groundskeeper Ezekiel "Zeke" Banks, Public Works
Snack bar attendant Patricia Turchon (Part Time/Seasonal)
« Back to News