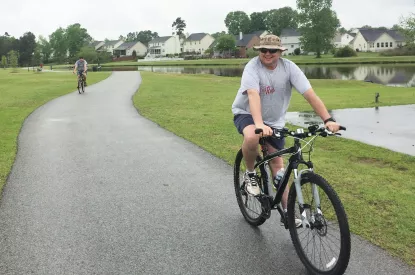 GCPD's bike-a-thon benefits St. Jude

Mar 22 2017
Spending a spring morning riding a bicycle is a recipe for fun.
On April 8, it could also mean saving a life.
The Goose Creek Police Department's annual bike-a-thon to benefit St. Jude Children's Research Hospital is set for 9 a.m. on Saturday, April 8. 
It is the 32nd year for the benefit, which GCPD Chief Harvey Becker, its longtime volunteer coordinator, calls a chance to give back. The Chief encourages everyone to participate and "have a good time while helping a wonderful group of children and their families."
The event raises money for children stricken with diseases like cancer, AIDS, and Sickle Cell Anemia – money that will help St. Jude in its ongoing fight against childhood cancer and other catastrophic diseases. 
Since the hospital opened in 1962, more than 150 children and families from South Carolina have received treatment. More than 40 children from the state are currently at the renowned facility.
St. Jude is internationally recognized for its pioneering work in finding cures and saving children with cancer and other catastrophic diseases. The hospital has made a real difference: In 1962, the survival rates for acute lymphoblastic leukemia was 4 percent. That was the year St. Jude opened. Today, the survival rate is 94 percent.
Founded by the late entertainer Danny Thomas, and based in Memphis, St. Jude shares its discoveries with scientific and medical communities around the world. Treatments not covered by insurance are never billed to the family; and families without insurance are never asked to pay. 
To participate in this year's bike-a-thon, sponsor forms are available in the GCPD lobby.  To make a donation or for more information, call Chief Becker at (843) 863-5200 ext. 2309.
For more information visit St. Jude Children's Research Hospital.
« Back to News