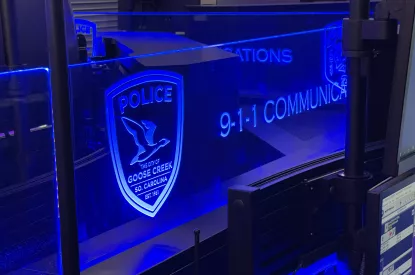 GCPD unveils state of the art Communications Center

Sep 2 2021
The Goose Creek Police Department unveiled its new, state of the art Communications Center on Sept. 2. Mayor Habib and City Councilmembers joined GCPD Chief LJ Roscoe for the important unveiling.
The $1.1 million upgrade -- paid for with reimbursable State 911  as well as existing E911 funds – ultimately will mean increased safety and better emergency service for our City residents.
The Next Generation 911 equipment includes texting, mapping, language line interpreting, and quicker call processing. The new system will allow pictures and video to be sent via 911, information that can be shared real time with responders. 
The crown jewel of the upgrade is the Emergency Medical Dispatching (EMD) System. Certified through the International Academy of Emergency Dispatch, the City's telecommunications specialists are now trained to provide life-saving pre-arrival instructions to callers, including CPR, childbirth instructions, bleeding control, etc. Studies have shown that pre-arrival instructions have the greatest impact in life-threatening situations. Beginning later this month, callers can expect to be asked a few more questions when calling in for medical emergencies. The additional questions will allow responders to better prepare for the emergency. 
« Back to News