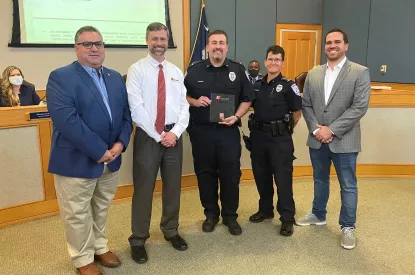 GCPD officer receives MADD's Compassionate Hero Award

May 12 2021
Goose Creek Police Department Lt. Josh Battista was presented the Compassionate Hero Award from Mothers Against Drunk Driving (MADD) at the May 11 Goose Creek City Council Meeting.
MADD created the Compassionate Hero Award to honor first responders who demonstrate wonderful, consistent support for DUI victims. MADD Regional Executive Director Steven Burritt called Lt. Battista an easy choice for the honor.
"He does outstanding work in building strong cases in DUI crashes so that victims can get the justice they deserve," Burritt said. "His compassion and communication with crash victims … goes above and beyond. He makes victims a priority, day and night."
Burritt read a note written about Lt. Battista by a victim's family. "We have never met a policeman who is as kind, thoughtful and compassionate as you have been to us," the note read. "There is no way to express how grateful we are."
Burritt also praised Lt. Battista's commitment to connecting victims with the mental health services that are available.
After receiving the unexpected honor, Lt. Battista addressed the audience. "Thank you to everybody," he said. "This is something that is near and dear to my heart and always has been, to work with MADD … this really means a lot."
GCPD Chief LJ Roscoe joined Burritt and Goose Creek Mayor Greg Habib to present the honor to Lt. Battista. "Congratulations, and thank you for all that you do," she said.
Mayor Habib praised Lt. Battista for his passion and energy for his work. "We are incredibly proud of Lt. Battista and our whole department," the Mayor said. "Lt. Battista is an example of what our police department is all about."
The award was presented by MADD and the Bringardner Law Firm, and attorney Mark Bringardner took part in the presentation.
In addition to the Compassionate Hero Award, MADD also commended the GCPD for being named one of the state's DUI Agencies of the Year.
« Back to News