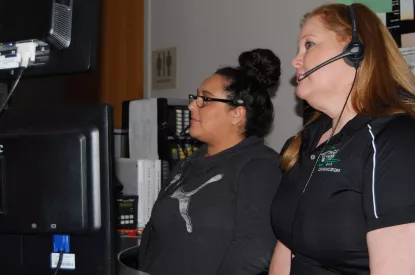 GCPD offers Citizen Check-in Program

Jan 31 2017
A unique program offered by the Goose Creek Police Department is giving residents an added sense of security. It's also saving lives.
The department's Citizen Check-In Program began last year. To take part, residents must either be over the age of 65, or have a mental or physical condition that puts them at risk. If they meet these criteria, residents can sign up for the program, which is free.
Chief Harvey Becker's police force takes it from there.
Every day, the GCPD's Communications Center calls the resident's home to check on them, and make sure all is well. The service gives residents – and in many cases, their family members – a sense of security.
If a call goes unanswered, the GCPD's next available officer will check on the resident in person.  
The program's potential was realized earlier this month. "A recent incident proved that this program did what it is designed to do," Chief Becker said. "When a person on the call list could not get to the telephone a police officer was dispatched to the home. 
"The officer found the person incapacitated, and summoned medical assistance.  The person was transported to a local hospital and is okay today."
Chief Becker stressed that the program comes at no cost to residents. "This is a complimentary service we provide to our citizens who wish to participate," he said.
To sign up for the Citizen Check-In Program or for more information, call the Goose Creek Police Department at (843) 863-5200.
« Back to News