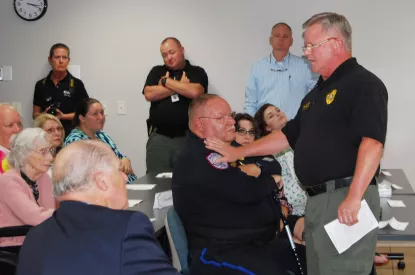 GCPD honors Lt. Upchurch

Jun 26 2017
The City of Goose Creek and the extended Goose Creek Police Department family bid a fond farewell to Lt. Byron Upchurch on Friday, June 23, as Lt. Upchurch retired after nearly three decades with the city.
Lt. Upchurch was a familiar and trusted face in the community to a generation of residents. He was the city's first Traffic Unit Sergeant, and served in that unit from 1991 to 2006.His career included service in the U.S. Navy from 1978 to 1986, and four years with the Berkeley County Sheriff's Office from 1986 to 1990. He joined the GCPD in 1990.
Goose Creek Police Chief Harvey Becker called Lt. Upchurch a crucial component of the city's police department over the past 27 years. "We're going to miss you," Chief Becker said. 
"You touched many lives, both in the community and in this building," GCPD Major John Grainger said.
In a biography, the GCPD commended Lt. Upchurch for his "many years of service and ... genuine desire to serve the citizens of Goose Creek."
Berkeley County Sheriff Duane Lewis, who served at the GCPD with Lt. Upchurch, as well as former Berkeley County Coroner Wade Arnette were among the guests at last week's ceremony.
« Back to News