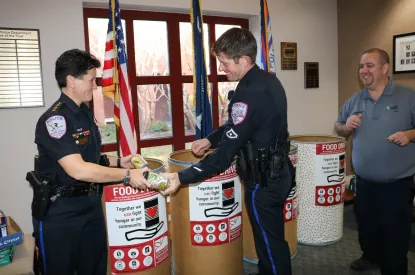 GCPD assisting with food drive for federal employees affected by shutdown

Jan 24 2019
The Goose Creek Police Department is pleased to be participating in "Public Servants Helping Public Servants," an effort by the Lowcountry Food Bank to provide meals for public servants in the Lowcountry affected by the partial federal government shutdown.
Goose Creek Police Chief LJ Roscoe and the GCPD invite residents to donate to this cause by bringing non-perishable food items to the containers set up in the GCPD lobby at the Municipal Center, which is accessible 24 hours a day. The food will provide meals to children, seniors and families who are struggling during this time.
For more information on the Lowcountry Food Bank, or to make a monetary donation online, visit www.lowcountryfoodbank.org. 
« Back to News