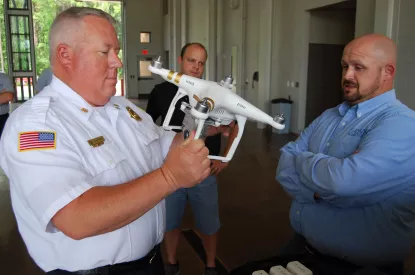 GCFD sees many uses for donated drone

Jun 27 2017
An aerial drone that could help firefighters safely survey the scene of a fire has been donated to the City of Goose Creek.
SkyView Aerial Solutions LLC announced the donation during a recent visit to the Goose Creek Fire Department's headquarters station.
Once the GCFD becomes trained to use the drone, Fire Chief Steve Chapman said the device could help in a number of ways.
"It will be used for a variety of functions, including documenting incidents, training, pre-planning for major incidents, after action reviews, land searches and wildland fires," he said. "It is just another tool to do our job more effectively."
Chief Chapman added that the drone could be utilized by other city departments to photograph events and festivals, monitor construction projects, or give potential businesses a bird's-eye view of the city's landscape.
SkyView CEO Tom Fernandez and Chief Quality Officer Derek Brayton were on hand during the visit to show firefighters the drone. The duo will return in the weeks ahead for training.
Fernandez, whose company recently made a similar donation to Berkeley County, said that SkyView is pleased to be able to give back to the community, and that he looks forward to a long relationship with the GCFD.
"They have been friends of the Fire Department for a long time," Chief Chapman said of SkyView. "We greatly appreciate this donation."
For more information on SkyView, visit www.SkyViewAerialSolutions.com.
« Back to News