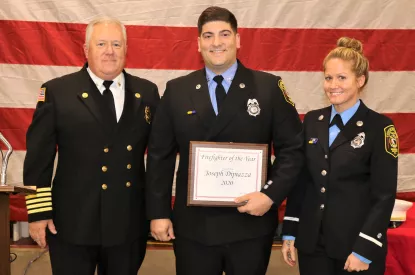 GCFD honors its 'best of the best,' swears-in new firefighters

Nov 11 2019
The Goose Creek Fire Department swore-in 15 new members, named its 2020 Firefighter of the Year, and announced a host of promotions and honors at its annual awards ceremony on Friday, Nov. 8 at the GCFD Headquarters Station in Goose Creek.
Firefighter/EMT Joseph Dipiazza was named the 2020 GCFD Firefighter of the Year. The annual honor is giving to the "best of the best," Fire Chief Steve Chapman told Friday's audience of over 100 friends, family and supporters of the GCFD.
Chief Chapman described Dipiazza as "someone who has contributed significantly to the department, someone willing to assist with any project at any time, someone who is always first … when there is work to be done."
Dipiazza was presented the award by Chief Chapman and Firefighter/Paramedic Sara Gismondi, the 2019 Firefighter of the Year.
Gismondi, Firefighter/Paramedic Jason Noonan and Firefighter/EMT Bryce Hoffman was promoted to the rank of Engineer at Friday's ceremony. Promoted to the rank of Captain were Engineers Nicholas Collins and Randy McNicoll. Captains Mike Althoff and Todd Pruit were promoted to the rank of Battalion Chief.
As for the newcomers, sworn in as Firefighter/Paramedic were Rich Barner, Steve Eisenberg, Thomas Gatz, Conor Hough, Scott Mrowca, Eric Ransom and Yancey Wright. Sworn in as Firefighter/EMT were Bertucci Guiseppi, Jason Healy, Matt Luzzi, Andrew McCallister, Julio McKinney, Wayne Simmons, Jacob Walia and Kyle Williams.
Chief Chapman honored members of the GCFD's award-winning Combat Challenge Team. Team members are Captain Bob Ulrich, Captain Jason Fenstermaker, and Firefighter/EMT Bryce Hoffman, Julio McKinney and Alex Waller.
Finally, the Department cited several firefighters for taking life-saving action over the past year.
Battalion Chief Altoff, Captain Fenstermaker and Engineer John Lee were honored for the decisive action they took last year that saved the life a driver whose car was involved in a major accident on Saint James Avenue.
Captain Rick Bassin, Captain Adrian Taylor, Engineer Neal Arrington, and firefighters Scott Grooms, Mike Lyden, Alex Waller, Matthew Harter, Jason Healy and Jacob Walia were presented a Life Saving Award for their actions that saved the life of a man who had gone into cardiac arrest on Foster Creek Road.
Engineer John Lee was also given a Life Saving Award for administering emergency medical aid and saving the life of a child who had gone under water for several moments at a community pool.
Goose Creek City Councilmember Jerry Tekac addressed Friday's gathering, and thanked Chief Chapman and everyone at the GCFD for the work they do to keep the community safe.
Pictured above: 2020 Firefighter of the Year Joseph Dipiazza (center) with Chief Chapman and 2019 Firefighter of the Year Sara Gismondi.
« Back to News