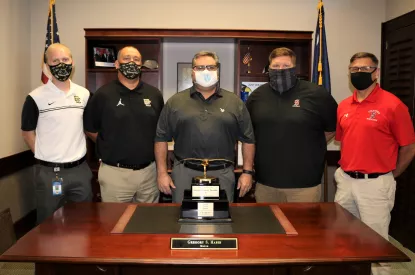 Gators, Knights set to battle for Golden Goose Trophy

Oct 19 2020
It's rivalry week in Goose Creek, and the Golden Goose Trophy is up for grabs! The Knights and Gators will meet on the football gridiron Friday night, Oct. 23, at Stratford High School.
The Golden Goose Trophy was created by Mayor Habib in 2019, and is awarded annually to the winner of the "Clash in the Creek" football game between the Knights and the Gators. Last year, Goose Creek captured the trophy with a home win against the Knights.
Today, Mayor Habib was joined by (l-r) GCHS Athletics Director Angus Chingman and Head Football Coach Jason Winstead, and SHS Head Football Coach Dennie McDaniel and Athletics Director John Chalus to help promote the big game.
The Mayor sent out a special thanks to JW Aluminum, who sponsored both the Golden Goose Trophy and the Mayor's Cup, which will be presented at the end of the school year for the most wins in the rivalry over all sports.  
« Back to News