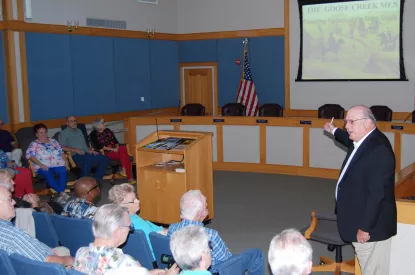 Free lecture series brings Goose Creek history to life

Oct 4 2017
Armed with humor, insight and a lifetime of research, Goose Creek Mayor Michael Heitzler will bring Goose Creek's past to life as only he can this fall, as his popular historical lecture series returns in October.
The free series – "Goose Creek Backyard History" – will be held at City Hall from 6 to 8 p.m. every Thursday from Oct. 5 through Nov. 16. Everyone is welcome to attend.
Mayor Heitzler brings decades of study to the lectures, which have proven to be a popular draw during the fall months. The Mayor has authored five history books and 15 historical booklets and articles. His presentations are filled with stories of the men and women who, across the centuries, helped shape a city and region.
Topics for this fall's series include:
Oct. 5: The Goose Creek Men, Founding Fathers of the Deep South; Wassamassaw and Beyond
Oct. 12: Carnes Crossroads, Phoenix of the Middle Ground; Eighteen-Mile House Tavern, Cradle of the Deep South
Oct. 19: Otranto, Land at the Crossroads; The Oaks Plantation, Mansions and Moonshine
Oct. 26: Goose Creek Ghosts and Ghouls; The Chicken Trilogy, Indian Fighters and Lovers
Nov. 2: Steepbrook Plantation, Another World, Another Dream; Button Hall, Home of Planters, Politicians and Patriots
Nov. 9: Woodstock, Land of Rice and Riches; Windsor Hill, A Crest for Fallen Heroes
Nov. 16: City of Goose Creek, 1961, 1974 and Today
« Back to News