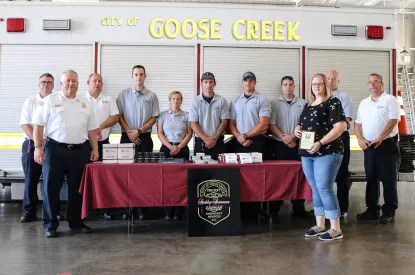 Firefighter's memory lives on with donation

Jul 1 2018
It has been less than a year since Goose Creek Firefighter/EMT Robby Brannon lost a brief yet courageous battle with cancer. On Thursday, June 21, Firefighter Brannon's memory was honored with a special donation.
Kayla Brannon, Robby's wife, was joined at the Goose Creek Fire Department Headquarters Station by Infinity Safety Supply LLC owner Jay Drucker. Together, they presented a donation of supplies – including Responder Wipes, charcoal soaps, a health supplement, and gear-cleaning solution – to the GCFD in Robby Brannon's memory.
"It's been bittersweet," Kayla Brannon said before Thursday's presentation. "It's really hard to come back here … but I'm finally coming to peace with things. I just want to do whatever I can to help firefighters."
The supplies have a specific purpose: to remove potentially dangerous and toxin-carrying dirt, oil and soot from firefighting equipment and vehicles, and firefighters themselves.
Studies have shown that firefighters are at higher risk of cancer, and develop cancer at younger ages, than the general population. It is believed that the extreme heat firefighters encounter cause skin to be more permeable to dangerous toxins.
The potential danger that firefighters face weighed on Kayla Brannon after her husband's death in 2017. It was during her grief that she met Lillian Carney.
Mrs. Carney was married to Midway Fire Rescue Battalion Chief Josh Carney, when Josh was diagnosed with cancer five days before Robby Brannon's diagnosis; in only a matter of months, the two men would die five days apart.
In the aftermath of her husband's death, Lillian Carney founded The Carney Strong Initiative, which works with non-profit organizations like Brothers Helping Brothers and Responder Wipes to provide fire departments with preventative cancer products.
Becoming friends with Lillian was a blessing for Kayla, who quickly became involved in the efforts that her counterpart was making on behalf of firefighters.
"My main duty is to just help educate, and make people realize (the dangers that firefighters face)," she said.
Goose Creek is the second fire department to receive a donation from The Carney Strong Initiative, following a donation made to Josh Carney's own Midway Fire Rescue on Pawleys Island.
Jay Drucker, whose upstate company has worked with The Carney Strong Initative, said the wipes "are a decomantimation tool. They have a chemical bonded water to them that helps lift (toxins) off the skin without putting it into the skin."
The charcoal-based soaps have a similar ability, as does the gear-washing solution.
GCFD Chief Steve Chapman thanked Kayla Brannon for the donation, and also thanked The Carney Strong Initiative for making the GCFD one of its first recipients. "We're excited about this donation," Chief Chapman said. "I think (these cleaning supplies) are something every fire department should use."
Chief Chapman said the GCFD plans to purchase more Responder Wipes as well as other decontamination items after the donated supplies run out.
« Back to News