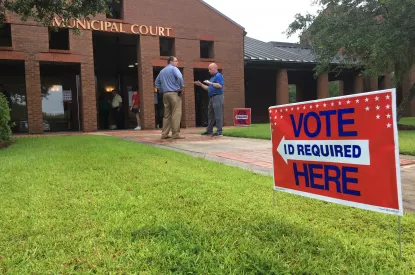 Esarey, McSwain to meet in runoff election on Aug. 14

Jul 31 2018
Goose Creek voters took to the polls for the second time in 2018 on Tuesday, July 31 for a special election to determine who will fill the vacant seat on City Council.
In two weeks, voters will return to the polls for a third time.
Kimo Esarey and Gayla McSwain were the two top vote-getters in the five-person election.
In unofficial results, Esarey, a former City Councilmember, captured 506 votes to finish first, and McSwain finished second with 425 votes. Because Esarey's vote total did not constitute a majority of all votes cast, a runoff election is required.
The remaining candidates were Christopher Harmon (248 votes), Tom Keefe (22) and Christopher Chapman (19).
The runoff election between Esarey and McSwain will take place on Tuesday, Aug. 14. Voting will again be held at the Municipal Court at the Goose Creek Municipal Center from 7 a.m. to 7 p.m. 
The winner of the Aug. 14 runoff will serve the remaining two years of the City Council seat vacated by Greg Habib upon his Mayoral victory earlier this year.
« Back to News