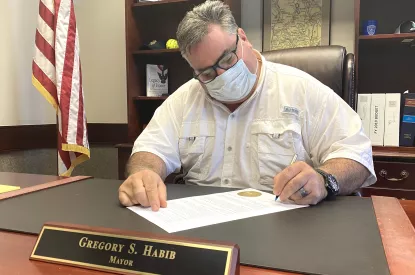 Emergency Proclamation making masks mandatory continues in Goose Creek

Nov 12 2020
Update: Goose Creek Mayor Greg Habib has again renewed the Emergency Proclamation that officially mandates face coverings in all Goose Creek businesses, as the City continues to use every lever at its disposal to slow down the spread of COVID-19. View the Proclamation, which was signed Nov. 11, in its entirety.
Mayor Habib first signed an Emergency Proclamation on Monday, July 6, at City Hall. A renewal of the Proclamation was signed on Sept. 4, before the latest renewal was signed on Nov. 11. The Proclamation calls COVID-19 a growing threat, and requires all customers in Goose Creek retail and commercial outlets to wear a mask. Employees must also wear a mask when interacting with the public.
"For the sake of our most vulnerable, and our ability to care for those battling the virus, I am requiring all of us to wear a mask when inside public spaces," Mayor Habib said. "I have spoken with the leaders in our medical community. The rise in positive Coronavirus tests is corresponding with a rise in hospitalizations due to the virus, and it is clear more action is needed."
The Mayor added that Goose Creek's requirement would "provide continuity throughout our region, as the five largest municipalities plus Dorchester and Charleston Counties all require masks."
The Proclamation asks businesses to display signage alerting customers of the mask requirement. Download a sign that all businesses are encouraged to use.
Masks are available at City Hall. If your business needs masks delivered, please email us.
« Back to News