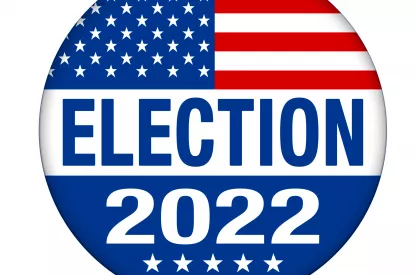 Election for Mayor, City Council members Nov. 8

Oct 18 2022
A general election in the City of Goose Creek will be held on Tuesday, Nov. 8, 2022. Voters will elect a Mayor and three City Council members.
Goose Creek City Council seats are at large – and not by district. This means that the top three vote-getters will win three seats.
City Council and Mayoral terms are four years. However, because the City has changed the timing of its elections, the terms for this year's races will be for five years.
City elections are administered by Berkeley County. Visit the county's elections page. If you have questions, call (843) 719-4056.
Sample ballot of the City's 2022 Election: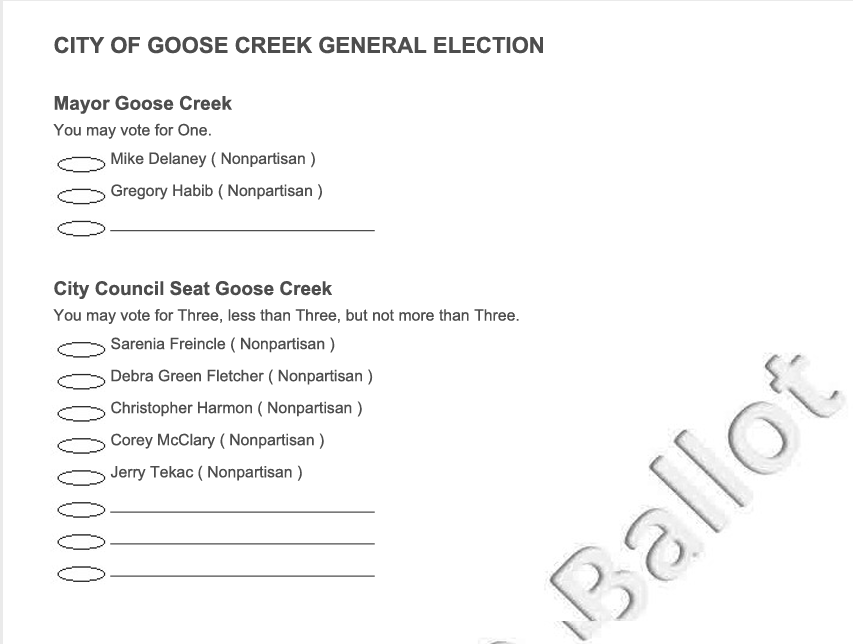 Early voting for the election begins Oct. 24, and ends on Nov. 5.
Early voting centers are located at:
Berkeley County Voter Registration Office  1003 US Highway 52 Moncks Corner, SC 29461
Hanahan Library 1216 Old Murray Dr. Hanahan, SC 29410
St. Stephen Library 113 Ravenell Dr., St. Stephen, SC  29479
Residents who were registered to vote by Oct. 9, 2022, can take part in this election.
Voters will be asked to provide one of the following Photo IDs when voting in person.
S.C. Driver's License

S.C. Department of Motor Vehicles ID Card

S.C Voter Registration Card with Photo

Federal Military ID

U.S. Passport

The following precincts and polling places will be open from 7:00 a.m. until 7:00 p.m. on election day, Nov. 8.  

Precincts/Polling Locations            
Beverly Hills / Boulder Bluff Elem School, 400 Judy Dr
Boulder Bluff / Boulder Bluff Elem School, 400 Judy Dr
Carnes Cross Rd 2 / Net International Ministries, 2308 N Main St
Central / Metro North Church, 109 Central Ave
Cobblestone / Net International Ministries, 2308 N Main St      
Devon Forest 1 / Devon Forest Elem. School, 1127 Dorothy St
Devon Forest 2 / Devon Forest Elem. School, 1127 Dorothy St
Foster Creek 1 / Goose Creek Elem School, 200 Foster Creek Rd
Howe Hall 1 / Howe Hall Aims School, 115 Howe Hall Rd
Howe Hall 2 / Howe Hall Aims School, 115 Howe Hall Rd
Liberty Hall / New Life Christian Fellowship, 358 Liberty Hall Rd
Medway / Mevers School of Excellence, 7750 Henry E Brown Blvd
Sedgefield 1  / Sedgefield Middle School, 131 Charles B Gibson Blvd
Sedgefield 2 / Sedgefield Middle School, 131 Charles B Gibson Blvd
St James / Goose Creek High School, 1137 Red Bank Rd  
Stone Lake / Stratford High School, 951 Crowfield Blvd
Stratford 2 / Stratford High School, 951 Crowfield Blvd
Stratford 4 / College Park Middle School, 713 College Park Rd
Westview 1 / Crowfield Baptist Church, 100 Hunters Ln
Westview 2 & 3 / Westview Middle School, 101 Westview Dr
Westview 4 / Crowfield Baptist Church, 100 Hunters Ln
« Back to News