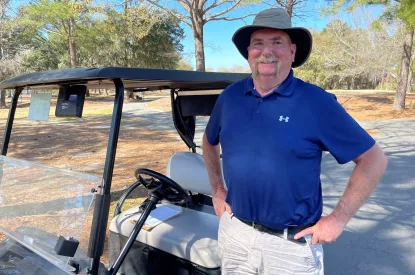 Dream come true: Crowfield Golf retiree loves his new job

May 3 2022
It does not take long to realize that Mike Hohorst truly loves his job. After retiring from the Air Force Civil Service, Mike joined the Crowfield Golf Club staff last year as a cart attendant & starter. "This is my retired job," he said. "It's been a blessing and a dream come true."

Originally from Maine, Mike's career in the U.S. Air Force brought him to the Lowcountry in 1992. He retired from the USAF in 2005, before beginning his time with the Air Force Civil Service.  After retiring again in 2021, Mike knew where his next employment would be. "I decided I wanted to work for the golf course," he said.  He loves all parts of the job, including "going out and picking up balls (on the range), and seeing if people can hit me," he said with a laugh. 

He still plays golf as often as possible, but admits that his employment at Crowfield has not helped his game: "I'm probably one of the worst avid golfers that ever lived ... but I play regularly."

Thanks for the visit, Mike, and keep up the great work! 
« Back to News