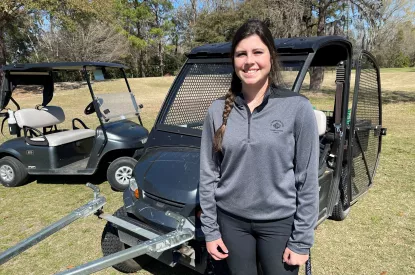 CSU-bound Cool is a talented addition to Crowfield Golf Club

Apr 8 2022
Chayse Cool is one of the City's youngest -- and most talented -- employees.
The Stratford High School senior recently earned a golf scholarship to Charleston Southern University. She grew up in Goose Creek, and has been playing golf since the age of 12. 
Last summer, Chayse found a job at Crowfield Golf Club that brings her closer to the sport she loves. She is a golf cart attendant, keeping the carts in order and ready for play, and can often be found on the driving range picking up balls. "It's been great," she said of her time at the club.
Chayse says she's excited about the fall when she'll begin her college career at CSU. Until then, keep up the great work, Chayse! 
« Back to News