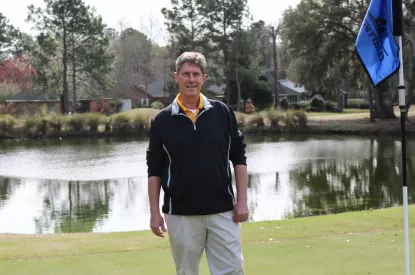 Crowfield's Biegger celebrates 25th year of certification

Mar 11 2019
Tracking down Crowfield Golf Club's Todd Biegger is no easy task. He may be overseeing the maintenance of a fairway, or making sure the putting greens are just right, or maybe even operating a tractor himself.
One thing is certain: He is always hard at work – and many area golfers benefit from that work every day.
As Crowfield's Golf Course Superintendent, Todd oversees the maintenance of the golf course. It's a demanding, year-round job, and he loves it. Later this month he will celebrate 10 years on the job.
His 10-year anniversary could not have come at a better time: A few days ago, Todd earned a coveted recertification designation from the Golf Course Superintendents Association of America. Only 20 percent of Class A Superintendents are certified in the U.S., and with the recertification, Todd has now held that distinction for 25 years. He was honored for his accomplishment at this year's Golf Industry Show in San Diego.
Crowfield Golf Club General Manager Troy Sanders calls Todd's achievement a significant one: "Just being certified is impressive, but to maintain certification with the continuing education requirements of the GCSAA for 25 years is a great achievement," he said.
The certification is the GCSAA's stamp of approval, and it does not come easily. The designation involves a comprehensive, all-day exam; two outside peer evaluations performed by golf superintendents; and a wide range of other criteria.  Candidates for certification must have at least five years of experience as a superintendent.
According to Todd, the certification process – which takes close to one year to complete – is about becoming the best superintendent he can be. "It's a program that takes it to the highest level you can for education and professionalism," he said. 
Todd's love of the outdoors makes coming to work at one of the Lowcountry's most beautiful courses a real pleasure. "You've got to love the nature," he said.  "Sometimes you have to deal with the elements, but you also get a lot of great days."
When asked what his favorite part of the job is, Todd does not hesitate.
"The people I get to work with," he said. "They are the guys who are doing it all – if they have a good attitude, and they buy into it, we get a lot of good success."
A graduate of UMass-Stockbridge's School of Agriculture, Todd was a superintendent at Providence Country Club in Charlotte for 12 years before coming to Goose Creek. He also served an additional 10 years as a superintendent at Pinehurst Resort courses 6 and 7.
« Back to News