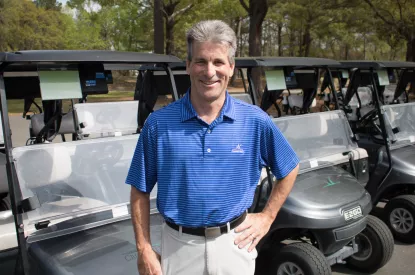 Crowfield welcomes third golf pro to staff

Mar 27 2023
When given an opportunity to return to a place he loved, Will Forrest didn't hesitate. "Crowfield is home... that's the best answer I can give you," Will said. "And I like to be back home."

Will is the new Assistant Pro at Crowfield Golf Club. He had previously worked in the clubhouse at Crowfield, and is excited to be back. "I like the people, that's the biggest thing," he said. "And I like being outside, and getting paid to play golf!"

Born in Darlington, Will grew up in Myrtle Beach, and has been around golf his entire life. He has lived in the Lowcountry for the past 25 years.

An additional Assistant Pro position was created because of the busy schedules of Head Pro Bobby Donnellan and Assistant Pro Dan Meyer. Crowfield General Manager Troy Sanders said he was thrilled to welcome Will back to the fold. "The golf club is thriving and our rounds and overall activity are way up," Troy said. "There has really been an increase demand for golf instruction, so having the ability to bring on another class A assistant golf professional is tremendous."

Will's responsibilities will include golf lessons, and helping out with a host of camps and programs at Crowfield. "Having someone with Will's experience is great," Troy said. "He is able to dive right in to the operation. Our golf pros are working pros ... they work their schedules around pro shop shifts and manager-on-duty shifts, which are also essential when the golf course and range are so busy. They act as a true back-up to employees when there is an issue or help is needed.

"We are very proud to have three Class A golf professionals on staff here at Crowfield, and we know that Bobby and his team will keep the demand and busy operation going. If you see Will around the club, please introduce yourself!"
« Back to News