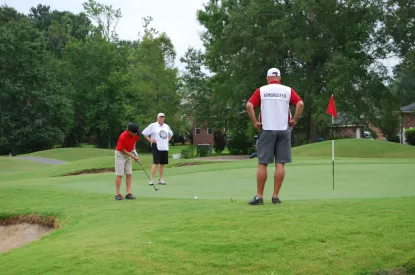 Crowfield set to host U.S. Kids Golf tour

Dec 11 2017
Some of the area's best young golfers will show off their skills at Crowfield Golf Club on Saturday, Dec. 16.
Crowfield is one of eight golf courses hosting the U.S. Kids Golf Winter Local Tour for the Charleston area. Saturday's one-day tournament is the tour's second competition. Last week saw the first tour event held at Dunes West Golf Club.
Saturday's tournament will feature boys and girls between the ages of 5 and 14. The event begins at 11 a.m., and is open to the public. Golf carts will be available to rent for spectators.
Saturday marks the second time in as many years that Crowfield has hosted a U.S. Kids Golf event. In 2016, the Carolinas State Invitational was held at the Goose Creek course. The Invitational included 157 young golfers from across the U.S.
Crowfield Golf Professional Bobby Donnellan called the chance to host the U.S. Kids Golf tour another valuable opportunity. "We are thrilled to welcome U.S. Kids Golf back to Crowfield," Donnellan said. "We love what U.S. Kids Golf means to the sport, and we're happy to again partner with this great organization."
After the tour's eight one-day tournaments are complete, a season-ending Local Tour Championship will take place at Wild Dunes Resort's Harbor Course on Jan. 28. Players earn awards and points for each tournament.
For more information about U.S. Kids Golf, visit www.uskidsgolf.com.
« Back to News