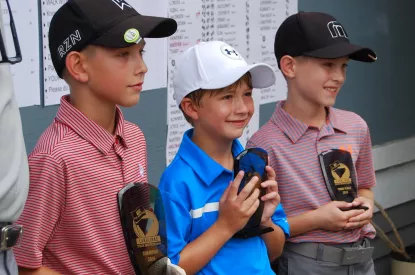 Crowfield Golf enjoys 'incredible three days'

Jul 1 2016
It was an exciting time at Crowfield Golf Club this week, as 157 of the nation's most talented young golfers competed in the fourth annual U.S. Kids Golf Carolinas State Invitational.
The tournament began with a practice round on Monday, and concluded on Wednesday, June 29. Players came from across the nation – including several from South America.
Participants ranged from age 5 to 14.
Crowfield Golf Director Troy Sanders called the chance to host the event a wonderful opportunity. "This has been an incredible three days at Crowfield," Sanders said. "The comments we have received from parents who traveled here from all over the country have been so positive … they were impressed with our golf course and our community.
"I feel strongly that the capital improvements that the City has allowed us to do here have put us in a great position to host tournaments of this level in the future."
Top Carolinas State Invitational finishers qualified for the U.S. Kids Golf Major Championships later this year.
« Back to News