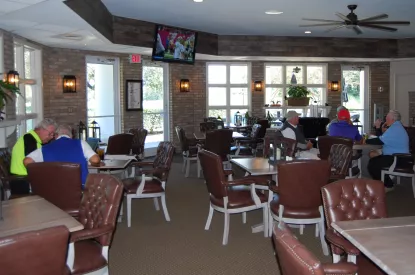 Crowfield Golf Club offering pub menu 3 days a week

Jun 2 2018
Crowfield Golf Club's Bar and Grill, located in the clubhouse, is offering a pub menu on Thursday through Saturday, and the public is welcome to come enjoy this sit-down dining experience. The recently-renovated dining area is open to the public, and is not limited to golfers.
A limited food menu and fully stocked bar is open seven days a week; the hours for the pub menu are 11 a.m. to 8:30 p.m. on Thursdays; 4 p.m. to 9 p.m. on Fridays; and 11 a.m. to 6 p.m. on Saturdays.
Current menu offerings are listed below; visit Crowfield Golf Club online for more menu details.
Creek Burger   $8.95
Ruins Reuben $8.95
3 Putt Patty Melt    $8.95
Berkeley Cheesesteak   $8.95
Lake Crowfield Fish & Chips   $9.95
19th Hole Nachos   $8.95
Club Champ Chicken Tenders   $8.95
On the Green Salads   $8.95
Spicy Double Bogey Shrimp   $7.95
Basket of Fries or Onion Rings   $3.95
Mulligan Cheese Sticks   $6.95
Goslings' Menu, under 10     $4.95
Desserts   $6.95
(All sandwiches served with fries, slaw, or potato salad. Substitute onion rings $1.50)
Call (843) 764-4618, ext. 2 for more information.
« Back to News