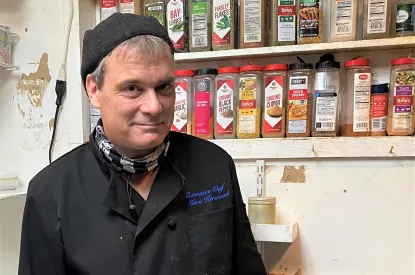 Crowfield Golf Club Executive Chef Mark Kerwood: An artist at work

Oct 1 2020
There's a spot just inside the swinging door that separates the dining room from the kitchen at Crowfield Golf Club's bar & grill. It's a spot that Executive Chef Mark Kerwood, who joined the Crowfield staff earlier this year, knows well.
"That's where I'm standing, right by the door," he said. "When I first send out a special, I'll stand right there, just looking through the glass to see the customer's reaction. That's what does it for me … when they first get their plate, seeing how they react. Seeing the smiles."
Mark has seen many such smiles during a lifetime behind the stove. He became a professional chef in 1983, but his time cooking began much earlier, when he was growing up in Pennsylvania.
"When you come from a large family, people assume everything is done for you," he said. "But in my experience, it was the exact opposite: Everyone had to fend for themselves. I started cooking at home when I was 3 or 4 years old."
By the time he was out of high school, a career choice was clear: He had a passion – and a real talent – for cooking. He traveled to New York and the Culinary Institute of America, where his focus was Italian Cuisine. The school was an incredible experience – but the real prize came outside of the classroom. "I was fortunate," he said. "I had the opportunity to apprentice for a chef for an entire year, and I learned everything in a functioning restaurant."
Mark's decades as a chef include several career stops, and he has also owned two catering companies.
For a while, family obligations led him to explore options outside of cooking. Yet his passion was never far away. "The most rewarding cooking I've ever done, is cooking my son's baby food," he said with a smile.
Like a great artist, he found himself called back to the empty canvas that is cooking. He remembers going to restaurants during his time away. "I was dismayed by the lack of imagination and talent in the industry … and that drew me back in," he said. "You have to understand the physics of food, but you have to have an imagination. Creating something brand new – that's exciting."
Mark came to the City of Goose Creek from Poogan's Porch restaurant on Queen Street in downtown Charleston. His weekly specials at Crowfield –announced every Wednesday morning – have proven to be crowd favorites. The bar & grill's pub menu is available from 11 a.m. to 8 p.m. Wednesday through Saturday.
Crowfield Golf Club is located at 300 Hamlet Circle in Goose Creek. See the bar & grill's full menu.
« Back to News