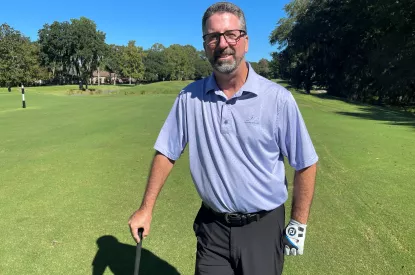 Crowfield Golf benefits from Donnellan's decades of experience

Oct 4 2021
Crowfield Golf Club Head Professional Bobby Donnellan's love affair with the sport began when he was growing up in Oklahoma. Although none of his friends played, his parents were both avid golfers. When Bobby was 12, they talked him into giving it a try. 

He loved the game -- and it was clear that he had a real talent for it. "My dad wouldn't play with me until I got better," Bobby recalled with a laugh. "And then he began taking me to play on Saturdays to play with his friends."

Bobby soon found himself on the Junior High team, and then on the Varsity team in high school, and then playing college golf. After beginning his college career at Cameron University in Lawton, OK, Bobby transferred to the home of the Wildcats, Kansas State University. He loved playing college golf, and after graduating he knew he wanted to stay involved in the sport. His career took him to the Southeast, and some of the region's best golf facilities. 

His first job out of college was as the Assistant Golf Pro at the Landings Club in Savannah, Ga. After four years, he was promoted to Head Pro, and remained there for five more years. From there, he accepted a job a the Ocean Forest Golf Club at Sea Island, Ga., and then became the Head Pro and Director of Golf at the Daniel Island Club in Charleston.

When the opportunity arrived to make a move to Crowfield, he took it. "At Crowfield, I get to help a lot of people I might not see at a private club," he said. "I've particularly enjoyed being able to work with a lot of the juniors here." 

Bobby, who will celebrate his 25th year as a PGA Professional this month, coaches the high school team at Northwood Academy, in addition to the lessons he gives at Crowfield. He's enjoyed every day on the job since joining the City of Goose Creek team in 2015. 

"Golf is a great sport," he said. "You're outdoors and you get to have fun. It's something that you can play your whole life ... we have several members here who are in their 80's and they play all the time." 
Learn more about Crowfield Golf Club.
« Back to News