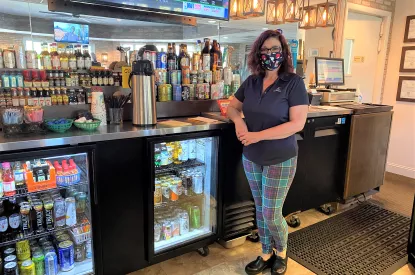 Crowfield Bar & Grill gets new manager

Dec 2 2020
The popularity of Crowfield Golf Club's bar & grill continues to grow -- and new Dining Room/Bar Manager Marta Fish plans to continue that growth.

Marta earned a degree in Hotel and Resort Management from East Stroudsburg University in Pennsylvania. Her education combined with her years of experience in the food and beverage industry make her a true asset for the City.

Marta was born in New Jersey and also grew up in Pennsylvania. She joined the Crowfield staff three years ago, and said that she and her co-workers "are like family."

"I love that this is my office, looking out there," she said while pointing to the view of the golf course outside.  The fact that her job keeps her active is also a plus: "I can't sit at a desk for eight hours a day ... been there, done that. No two days are ever the same here."

Crowfield General Manager Troy Sanders said Marta will be a great addition to the management team. 

"We interviewed six very qualified applicants, including two that were currently in that same position at area golf clubs," Troy said. "Marta was not only the best applicant on paper, but she also interviewed the best of all applicants. We are so happy to have someone here already on staff that is qualified, and we're excited for her new opportunity."

Marta's immediate goals include elevating the mixed drink and wine offerings. "We look forward to what she can do for the members, residents and customers here at Crowfield," Troy said.
« Back to News