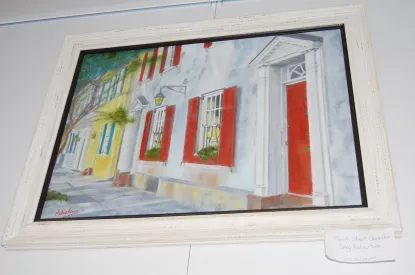 Crowfield artist on display

Apr 18 2017
A Crowfield artist is being featured this month at the Goose Creek Community Center.
Gregory Robertson is the Community Center's Artist of the Month for April. He uses acrylics and oils on canvas to paint historic buildings, marshes, seascapes and other scenes from around the Lowcountry.
Originally from Australia, Mr. Robertson grew up with a father and a brother who are also artists. He is mostly self taught, but has taken several workshops. He has lived in the Lowcountry for over 10 years, and resides at Crowfield with his wife, Jennifer.
Residents and visitors are invited to check out the paintings on display inside the Community Center. The artwork includes other area artists in addition to Mr. Robertson.
« Back to News