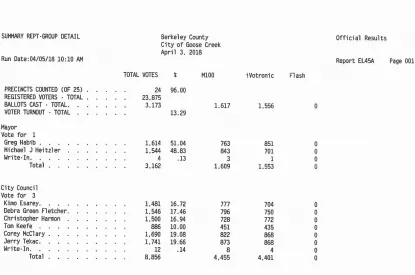 County certifies election results

Apr 5 2018
The results from the City of Goose Creek's election on April 3 have officially been certified by Berkeley County.
Berkeley County Election and Voter Registration Director Adam Hammons notified the City of Goose Creek of the certification on Thursday, and sent the City a copy of the vote totals and a signed statement from the Berkeley County Board of Canvassers.
The official election results are as follows:
In the Mayor election, Greg Habib won with 1,614 votes (51.04 percent) to Michael J. Heitzler's 1,544 votes (48.83 percent). There were four write-in votes, for a total of 3,162 votes cast.
In the City Council election for three seats, Jerry Tekac won 1,741 votes (19.66 percent); Corey McClary, 1,690 votes (19.08 percent); and Debra Green-Fletcher, 1,546 votes (17.46 percent). Tekac, McClary and Green-Fletcher were the winners, and no runoff election is needed.
Rounding out the City Council votes were: Christopher Harmon (1,500 votes, 16.94 percent); Kimo Esarey (1,481 votes, 16.72 percent); and Tom Keefe (886 votes, 10 percent).
Twelve write-in votes were cast for City Council, for a total of 8,856 total votes cast.
A total of 3,173 ballots were cast in Tuesday's election, representing 13.29 percent of Goose Creek's 23,875 registered voters.
« Back to News