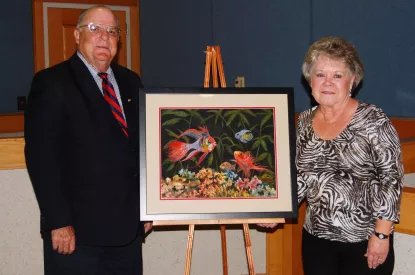 Council honors Artist Guild winner

Apr 14 2016
The City of Goose Creek honored local artist Dorothy Shromoff at the City Council meeting on Tuesday, April 12, 2016.
Shromoff's watercolor painting "Underwater Rainbow" is the Goose Creek Artist Guild's 2016 Purchase Award Winner, and will be hung at Goose Creek City Hall.
Mayor Michael Heitzler congratulates Shromoff as her painting is displayed at Tuesday's meeting. Her work has also been featured at the Goose Creek Community Center's ongoing art exhibition.
« Back to News