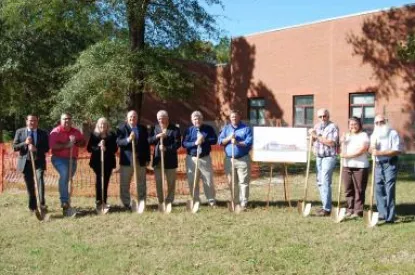 Council breaks ground on new Activity Center

Oct 26 2016
A sparkling, 35,000-square-foot Activity Center will soon be a reality in Goose Creek, as City Council members held a groundbreaking ceremony for its construction on Wednesday, Oct. 26.
The building will connect to the existing Community Center via a covered walkway at the City's Municipal Center complex. It is expected to be completed in 2018.
The Activity Center represents a major step forward for Goose Creek Recreation. At the heart of the new facility will be a 10,837-square-foot gymnastics center to replace the aging Casey Community Center.
The space will include seating for 300, locker rooms, and state-of-the-art equipment for Goose Creek's popular gymnastics program. The seating means Goose Creek will be able to host gymnastic meets and many other competitive activities.
Gymnastics are only part of the building's functions. Other rooms and spaces include two classrooms to be used for a range of activities; a dance, karate and yoga space; an aerobics room; coaches' offices; storage areas and more.
« Back to News