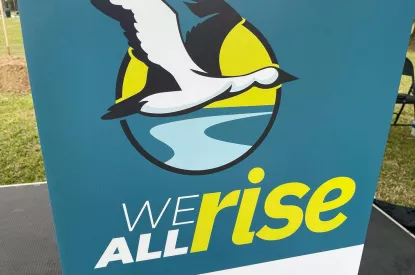 Community steps up support for barrier-free Central Creek Park

Oct 12 2022
The City of Goose Creek's $9 million, 13-acre, all-abilities outdoor recreation complex is benefitting greatly from the generosity of local donors.
In fact, Goose Creek Mayor Greg Habib says he is overwhelmed by the response to his invitation to help fund the world-class, barrier-free Central Creek Park.
"We launched our We All Rise capital campaign late last year and have been pleasantly surprised and extremely grateful for the outpouring of financial support," Mayor Habib said. "This giving level speaks volumes about our community's commitment to ensuring inclusivity."
The donations will help fund some of the innovative equipment and features planned for the park located at 147 Old Moncks Corner Road. The park is tentatively scheduled to open to the public on Dec. 16.
Central Creek Park will serve visitors of all ages and abilities with a variety of barrier-free features, including Debra's Playground, Splash Creek, a Field & Stage, a Walking Trail, the Eubanks Athletic Courts, and the Casey Pavilion, named for the Casey Community, and sponsored by Roper St. Francis Healthcare.
"I hope the Roper St. Francis Casey Pavilion will be a place for residents of all ages to gather for health, wellness, fitness, and fellowship," said Roper President & CEO Dr. Jeffrey DiLisi. "We are proud to be a part of this growing and vibrant community, both by supporting spaces such as this as well as providing exceptional care at sites across the county. We hope this special Pavilion serves the community for decades to come, and we look forward to continuing to partner with and care for Goose Creek."
To ensure the park is a safe and friendly gathering place where everyone can come together to exercise and play, the city commissioned Jeff Lewis Architect, Trident Construction, The LandPlan Group South, Carolina Parks & Play, Landscape Structures, and Rain Drop to design and install specialized equipment and technology. Those designs will allow wheelchair access on many play components, including playground swings, a zipline, and many of Splash Creek's water-play features, like Mr. Claw Crab, the Pirate Cannon, and the Big Kahuna Wave.
"We are honored and delighted to support such a game-changing community centerpiece as Central Creek Park," Goose Creek Heating and Air President and CEO Robbie Wright said. "A welcome addition to an already vibrant culture, the park will make fitness, play, awareness, and exposure to new opportunities accessible to all. Goose Creek Heating and Air is proud to play a small part in this extraordinary endeavor."
Throughout the park, play and exercise structures are universally designed to accommodate different body sizes, postures, and mobility ranges, offering maximum physical challenges and minimal hazards.
Goose Creek Recreation Director Crystal Reed says the community has embraced the park's mission.
"Central Creek Park is a testament to how important a universal-access culture is to the citizens of Goose Creek," she said. "Our community stepped up in a big way to help create a world-class outdoor recreation space for everyone, regardless of age or ability."
Central Creek Park is a continuation of the Recreation Department's mission to create a healthy, happy, and inclusive community, Reed said. That mission began with the City's new Therapeutic Recreation program in 2020.
The park's new all-abilities or "recreation for all" footprint will accommodate 600+ people comfortably, with parking for 202 and ADA parking for 31 and 16 van-accessible spaces. Shade structures throughout the park will provide canopies of protected areas for visitors to rest, recharge, and take a break from UV exposure. 
Nicole Herrera Murray is the Assistant Recreation Director at the City of Goose Creek. "To meet the diverse needs of every individual in this wonderful community we call home is a dream come true," Herrera Murray said. "No one should be excluded from the benefits of outdoor play, physical activity, or the opportunity to make new friends and increase their health, wellness, and self-esteem. Central Creek Park will be the heartbeat of our community."
Private donations to Central Creek Park exceed $1.3 million and include leadership gifts, naming opportunities, and a growing list of Friends of the Park.
Notable gifts include:
Casey Pavilion, Made Possible by Roper St. Francis Healthcare
Early Childhood Playground, Made Possible by Berkeley County
School-Age Playground, Made Possible by Boeing
Splash Creek, Made Possible by Berkeley County
Park Office, Made Possible by Goose Creek Heating & Air
Field & Stage, Made Possible by Home Telecom
Walking Trail, Made Possible by Berkeley Electric Cooperative & Trident Construction
Community Trail, Made Possible by Mungo Homes
Eubanks Athletic Courts, Made Possible by Goose Creek Recreation Commission
There is still time to support the park with a general donation or sponsor a Tribute Bench in honor or memory of someone special. A gift of $1,500 reserves the right to honor or memorialize an individual, group, or organization with an inscribed plaque that will be placed on a park bench. To learn more about dedicating a park bench or donating, visit https://www.cognitoforms.com/CityOfGooseCreek1/ParkDonations.
Read more about Central Creek Park.
Questions? Email Recreation Director Crystal Reed.
« Back to News