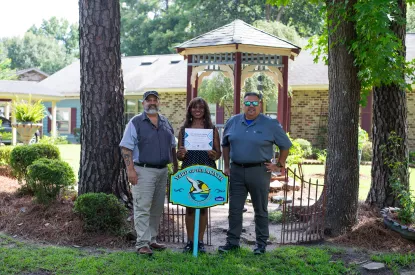 Code Enforcement Officers Recognize July's Yard of the Month Recipient

Jul 1 2023
Congratulations to A.R. Lowery for keeping Goose Creek beautiful, and for winning July's Yard of the Month award! City Code Enforcement Officers recently presented her with a certificate and $50 Lowe's gift card.
A Bushy Park Terrace resident, Mrs. Lowery has lived in Goose Creek since 1986 after moving from Florence, SC. She retired from the U.S. Air Force Reserves after a 33-year career.
"My goal in life is to enjoy this journey call," she said. "Live life to the fullest. Keep my faith in God. Travel. Take care of my home and yard. Learn to speak Spanish. Eat good tasting and healthy food."
Thank you for your hard work and contribution to Goose Creek!
« Back to News