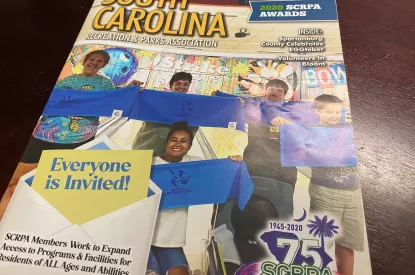 City's Therapeutic Recreation program featured in SCRPA publication

Dec 3 2020
The South Carolina Recreation and Parks Association's Winter 2020 magazine features a growing Goose Creek Recreation Program.
The magazine's cover and inside story feature Goose Creek Recreation's Therapeutic Division and how it has grown and blossomed over the past 12 months. Goose Creek Recreation's Nicole Herrera leads the program, and has overseen a number of new Therapeutic initiatives. 
View the SCRPA magazine online.
Below is the story in its entirety:
Therapeutic Programs Thrive Amid Covid19 Pandemic
The year 2020 has been filled with difficult challenges for every American. And yet even the year that will forever be remembered for COVID19 has seen its share of success stories.
One such bright spot can be found at the City of Goose Creek Recreation Department; specifically, its thriving Therapeutic Division. Against the backdrop of a stressful pandemic, the Division – under the guidance of Coordinator Nicole Herrera – has blossomed.
Prior to the COVID19 outbreak, the Recreation Department's Social Squad was its only Therapeutic offering. The Social Squad is itself a success story, as it offers a multitude of varied and engaging options for the community. In fact, the number of participants Social Squad attracted was a sign that the Therapeutic Division had an important role to play in Goose Creek.  
Over the past six months, three new classes have been created, classes that meet a challenging yet simple requirement all Therapeutic parents share: that their children be given the opportunity to enjoy the same activities as their peers.
The new programs have been met with enthusiasm:

Aqua-Play offers one-on-one interaction with a certified lifeguard, allowing participants to feel comfortable in the pool in a relaxed but safe environment. "It is absolutely amazing to watch our participants go from being reluctant to get in the water, to enjoy splashing and playing with their peers," Herrera said.  
Therapeutic Bowling gives athletes the chance to be on a team and learn the fundamentals of bowling. Herrera: "Our athletes look forward to cheering each other during practice and have fun rooting for their teammates' victories."
Therapeutic Mommy & Me Gymnastics is a new take on the popular program. It is designed for Therapeutic participants ages 1 to 5. Children build their core strength, gaining a sense of confidence in a safe and inviting environment. One recent participant was still new to walking – and made tremendous progress over the weeks and months at Goose Creek Recreation.
The Therapeutic Division's success in 2020 paved the way for even more programs that are coming soon. Those include Therapeutic Pottery, Therapeutic Basketball, Music Therapy, Wheelchair Basketball, Therapeutic Yoga and Full Family Social Outings.
No members of the Goose Creek Recreation family are more important – and more valued – than its Therapeutic participants. Goose Creek is thankful for them – and thankful for the great strides this important program has made in 2020.
« Back to News