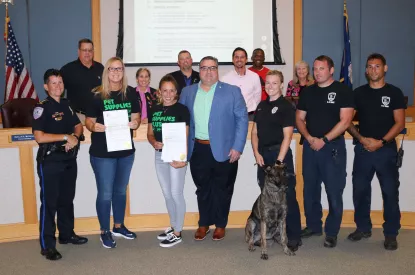 City says thanks to Pet Supplies Plus

Aug 14 2019
A local pet store has been honored by Goose Creek City Council. 
Pet Supplies Plus Appreciation Day was officially proclaimed by Mayor Habib at City Council's Aug. 13 meeting at City Hall. The proclamation was in response to the store's generous and important contributions to the Goose Creek Police Department's growing K-9 program.
In addition to a monetary donation, the store donated a complete K-9 Car Kennel, a new crate, toys and bowls for "Gracie," the newest GCPD canine; and is supplying dog food to Gracie and the Department's three other police canines, "Kron," "Dax" and "Rizen."
Pet Supplies Plus also partnered with the City for the GCPD's recent National Night Out celebration, which was held in the store's parking lot. 
"Pet Supplies Plus has been so supportive of our K-9 program, which has doubled in size over the past several months," Mayor Habib said. "We really wanted to make sure that we said thank you." 
The proclamation read by the Mayor stated that the store is "truly appreciated" for its generosity. 
Pet Supplies Plus franchise owner Lori Papagni and Goose Creek store manager Lana Briggs were on hand for Tuesday night's meeting, along with GCPD Chief LJ Roscoe, Ptl. Johnson, PFC Erickson, PFC Jones, and Gracie. 
« Back to News