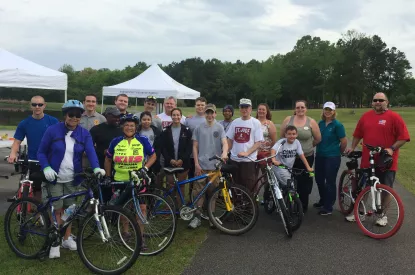 City readies for 31st St. Jude Bike-A-Thon

Apr 6 2016
The annual St. Jude Bike-A-Thon hosted by the Goose Creek Police Department is set for 9 a.m. on Saturday, April 9, 2016.
As the final countdown begins, Goose Creek Police Chief Harvey Becker has announced that the Goose Creek Police Explorers, Post 400, will participate in the popular event held behind City Hall.
The coordinator of the Police Explorers, GCPD Lieutenant Shelly Ollic, said that the group will be riding as well as sponsoring riders on Saturday.
The Bike-A-Thon benefits St. Jude Children's Research Hospital in Memphis, TN.
"The general plan is to have a good time while helping a wonderful group of children and families counting on our support," Becker said. "Our Police Explorers share the dream of the hospital's founder, the late Danny Thomas, who said that no child should have to die of cancer or other catastrophic diseases."
Since the hospital opened in 1962 close to 150 children and families from South Carolina have received treatment from St. Jude.  Currently, more than 40 children from South Carolina are receiving treatment from St. Jude.
Riders who raise $35 will receive a St. Jude T-shirt.  Those who raise $75 will receive a St. Jude drawstring backpack. Riders who raise $150 or more receive a St. Jude umbrella.  Prizes are cumulative.
If you are interested in participating, sponsor forms are available in the police department lobby at the Municipal Center.
« Back to News