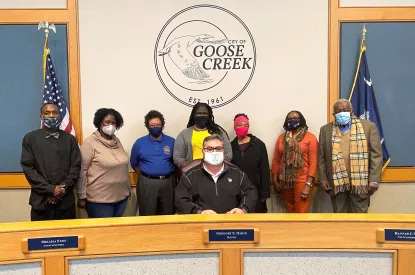 City proclamation honors MLK

Jan 22 2021
Mayor Habib signed a City Proclamation celebrating the life of Dr. Martin Luther King Jr. last week, as the City honored the Civil Rights icon and American hero. The proclamation officially designated Jan. 18 as Dr. Martin Luther King Jr. Day in Goose Creek.
"Dr. King's words and actions are not simply relics of an era past," and are "as pertinent today as they were during his lifetime," the Proclamation read.
Mayor Habib was joined at the signing by (l-r) Goose Creek Concerned Citizens Vice President Lamont Joshua, Goose Creek NAACP Executive Committee Member Jenae Haynes, NAACP Second Vice President Arnold Michel, NAACP President Sharina Haynes, NAACP First Vice President Brenda Bines-Watson, Levolia Rhodes of the City of Goose Creek Police Department, and NAACP Executive Committee Member John Matthews.
« Back to News