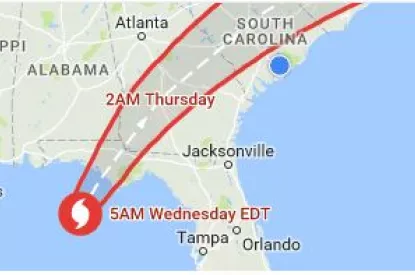 City prepared for potential tropical storm wind and rain

Oct 10 2018
City of Goose Creek officials are closely monitoring Hurricane Michael, which could potentially bring Tropical Storm force winds to the area beginning late Wednesday afternoon and continuing into Thursday. A Tropical Storm Warning remains in effect for Berkeley County.
The City encourages all residents to pay close attention to local media reports and use extreme caution.
Hurricane Michael was poised to hit the Florida panhandle Wednesday as a Category 4 hurricane. The storm will weaken as it continues on a projected path that will bring it over South Carolina.
Follow the latest on Hurricane Michael from the National Hurricane Center.
Tropical storm force wind gusts are a possibility as early as Wednesday afternoon, and that possibility will continue through Thursday evening across southeast South Carolina. Heavy rain is forecast for the area through early Friday.
« Back to News