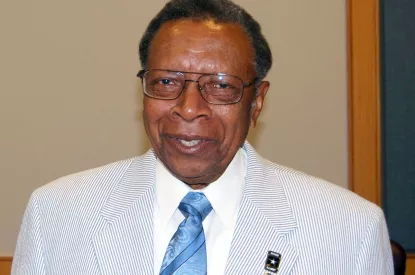 City mourns passing of former councilmember

Jun 11 2017
The City of Goose Creek is mourning the loss of a longtime public servant.
John McCants, whose quiet, steady leadership played an integral role on Goose Creek City Council for 24 years, died on Friday, June 9. He was 83 years old.
Mr. McCants' 1992 election to City Council began a quarter-century of service that helped guide the city through a period of unprecedented growth. He gave up his seat in 2016 after completing a sixth full term.
"John McCants was my friend and colleague for almost 30 years," Goose Creek Mayor Michael Heitzler said. "He was a family man first, and a forthright citizen next. He will be missed by every neighborhood and communal organization for his kind and gentle approach to life and service."
Mayor Heitzler said that Mr. McCants' service to Goose Creek will be remembered: "Among his many contributions, he brought appearance standard requirements to our town, and every commercial building built after 1980 bears his mark."
Goose Creek Mayor Pro Tem Mark Phillips called Mr. McCants a true public servant.
"John was a very humble, kind and gentle person who worked tirelessly in many capacities to serve his community," Mayor Pro Tem Phillips said. "He was especially concerned about the common man."
A retired U.S. Army Sergeant, Mr. McCants moved to Goose Creek in 1973, and was a resident of the Foxborough subdivision. After working as a grant writer for Charleston County, his post-military career included time as building inspector for the City of Goose Creek.
His career in elected office was but one chapter in a life of service. For decades, Mr. McCants served as a liaison between low-income families and their local government, helping residents obtain the services they need.
His many volunteer efforts included serving the United Methodist Relief Agency. He traveled throughout the region on the agency's behalf, assessing houses that needed repair and helping families obtain safe, affordable places to live. He worked extensively with Charleston Area Senior Citizens, serving on its board, and was a member of the Berkeley-Dorchester Economic Development Board.
Mr. McCants often took a wide view of Goose Creek's place on the landscape of South Carolina's Lowcountry.
"City Council really has to look inside itself to see what makes a city unique," he said during his final re-election campaign in 2012. "What makes it more than a wide spot in the road? We are working toward what makes people want to stop in Goose Creek, live here and work here."
He remained active following his retirement from City Council. He rarely missed community gatherings, and could often be found at the Municipal Center checking in with city staff, offering words of encouragement and gratitude.
In the spring of 2017, Mr. McCants spent several weeks helping Foxborough residents organize and share their concerns about a potential construction project.
Former City Councilmember Jerry Tekac spoke of his colleague during their final City Council meeting together in 2016.
"I consider him more than a just a colleague but a true friend," Mr. Tekac said. "John McCants was a great mentor to me when I first came on council and was always available to talk and provide insight and guidance. He was always quick to point out that the people elected me to make decisions, and that I needed to listen to my heart along with my brain.  
"The City of Goose Creek is in a much better place because of his leadership."
Eutawville Community Funeral Home (www.eutawvillefuneralhome.com) is in charge of the funeral arrangements.
« Back to News