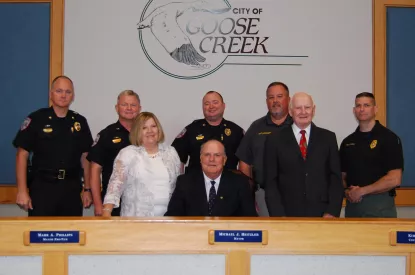 City honors police with proclamation

May 9 2016
Mayor Michael Heitzler has proclaimed May 15, 2016 as Peace Officers' Memorial Day in the City of Goose Creek.
Mayor Heitzler signed the proclamation in a recent ceremony at the Municipal Center, where he was accompanied by Mary Ann and Harold Deese of Goose Creek. The Deeses represented the local chapter of "COPS" (Concerns of Police Survivors).
COPS provides crucial resources to assist in the rebuilding of the lives of surviving families and affected co-workers of law enforcement officers killed in the line of duty. The organization also provides training to law enforcement agencies on survivor victimization issues, and educates the public of the need to support the law enforcement profession and its survivors.
Harold Deese's son, Phillip Michael Deese of the Dorchester County Sheriff's Office, lost his life in the line of duty in 2007.
For more information on the COPS South Carolina chapter, visit www.CarolinaCOPS.org
The proclamation reminds everyone of the important role police play in the City: "It is important that all citizens know and understand the duties, responsibilities, hazards and sacrifices of their law enforcement officers, and that law enforcement officers recognize their duty to serve the people of this community, by protecting them against violence and disorder."
In addition to Mr. and Mrs. Deese, Goose Creek Mayor Michael Heitzler was joined at the proclamation signing by Goose Creek Police Major John Grainger, Chief Harvey Becker, Captain Shawn Laffey, Captain Dave Soderberg and Captain Dave Aarons.
« Back to News